AirBnB
For those looking to stay in a bigger, more romantic space located 1 hour and 20 minutes south of Eyz Wide Shut, please check out Roy's Place, a safe place for people to "color outside the lines".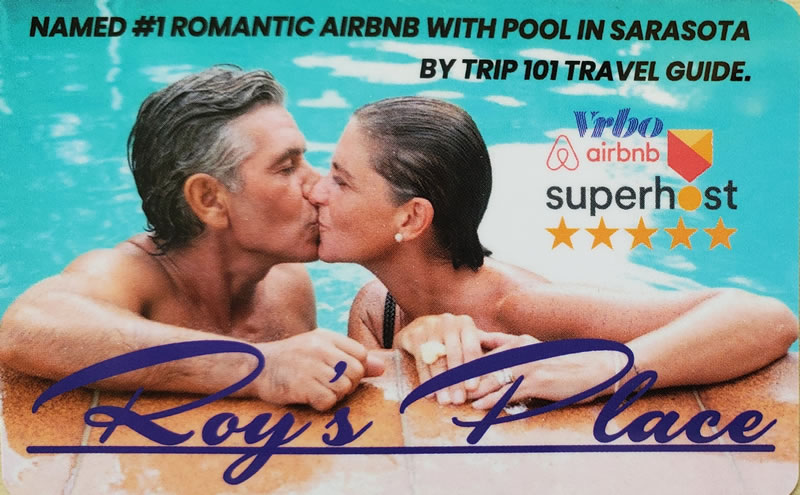 * Proudly the only clothing optional vacation property in Sarasota. Mention Eyz Wide Shut when booking and get 20% off!
Nearby Hotels
This is a list of nearby hotels.  Best to stay at a local hotel if you are partying late at Eyz Wide Shut, especially if you drink heavily.  We suggest you use UBER or taxis to travel between hotel and Eyz Wide Shut as a DUI offense can be very expensive.  It is always best to have a designated driver when drinking for your safety and the safety of others.
Our Choice Hotel 
Quality Inn,  9331 E Adamo Dr, Tampa, FL 33619   813-621-5555  https://tinyurl.com/QIhotels
Comfort Suites

9932 E Adamo Dr
Tampa, FL

(813) 630-4444

choicehotels.com

1.2

Country Inns & Suites

915 S Falkenburg Rd
Tampa, FL

(813) 315-1777

choicehotels.com

1.6

Embassy Suites

10220 Palm River Rd
Tampa, FL

(813) 653-1905

embassysuites3.hilton.com

2.9

Extended Stay America

12242 Morris Bridge Rd
Tampa, FL

(813) 989-2264

extendedstayamerica.com

13.3

Extended Stay America

330 Grand Regency Blvd
Tampa, FL

(813) 643-5900

extendedstayamerica.com

3

Fairfield Inn & Suites

10150 Palm River Rd
Tampa, FL

(813) 661-9719

marriott.com

2.9

Fairfield Inn & Suites

6720 Lakeview Center Dr
Tampa, FL

(813) 626-3000

marriott.com

3.9

Hard Rock Hotel

5223 Orient Rd
Tampa, FL

(813) 627-7625

seminolehardrocktampa.com

4.1

Hilton Garden Inn

10309 Highland Manor Dr
Tampa, FL

(813) 626-6700

hiltongardeninn3.hilton.com

4.4

Hilton Garden Inn

13305 Tampa Oaks Blvd
Tampa, FL

(813) 342-5000

hilton.com

8.1

Hilton Garden Inn

4328 Garden Vista Dr
Riverview, FL

(813) 626-6610

hiltongardeninn3.hilton.com

4.9

Holiday Inn Express & Suites

8610 Elm Fair Blvd
Tampa, FL

(813) 490-1000

ihg.com

3

Homewood Suites

10240 Palm River Rd
Brandon, FL

(813) 685-7099

homewoodsuites3.hilton.com

2.4

La Quinta

310 Grand Regency Blvd
Brandon, FL

(813) 643-0574

laquintatampabrandon.com

3.3

La Quinta

4811 US 301
Tampa, FL

(813) 626-0885

laquintatampafairgrounds.com

3

La Quinta

602 S Falkenburg Rd
Tampa, FL

(813) 684-4007

laquintatampabrandonwest.com

3

Motel 6

9942 E Adamo Dr
Tampa, FL

(813) 623-5121

motel6.com

1.2

Quality Inn & Suites

10007 Princess Palm Ave
Tampa, FL

(813) 622-8557

qualitysuitesbrandontampa.com

3.8

Red Roof Inn

10121 Horace Ave
Tampa, FL

(813) 681-8484

redroof.com

1.6

Red Roof Inn

5001 N US 301
Tampa, FL

(813) 623-5245

redroof.com

3.1

Residence Inn

9719 Princess Palm Ave
Tampa, FL

(813) 627-8855

marriott.com

3.7

Rodeway Inn

6510 N US Highway 301
Tampa, FL

(813) 630-0880

choicehotels.com

4.1

Sheraton

10221 Princess Palm Ave
Tampa, FL

(813) 623-6363

starwoodhotels.com

4.2

SpringHill Suites

1051 S Falkenburg Rd
Tampa, FL

(813) 623-9990

springhilltampa.com

1.6

Staybridge Suites

3624 N Falkenburg Rd
Tampa, FL

(813) 227-4000

ihg.com

3.8