Tampa's Premier Swinger Club
Eyz Wide Shut is Florida's #1 Upscale On-Premise Swingers Club & Playground.  We have a fully licensed liquor bar, dance floor, erotic art museum, game room, and a covered outdoor social & smoking area.  Our club offers a sexy atmosphere for lifestyle couples and singles to meet and greet.  Capacity of over 700 guests inside & 200 guests outside with bar & playrooms for an exciting night of adventure!
Take a tour of our newly renovated adult playrooms and fall in love with some of our spectacular rooms.  Choose from the Lady Godiva Suite, Cleopatra Suite, Seaside Suite, Dungeon Suite, Double Pleasure Suite, Zebra Lounger Suite, Harem Suite, Wild, Wild West Suite, Asian Ecstasy Suite, Double Pleasure Suite or Lovers Lane to live out your fantasy or experience romance with a little ambiance. 
Enjoy FREE private themed & group rooms with your Full Access purchase.  Rooms are on a first come, first serve basis. We have a time limit, so please respect this rule.
Group rooms are for couples only, no single males are allowed.  Single males are allowed into private rooms when invited.
Eyz Wide Shut offers a comfortable atmosphere for lifestyle couples and singles to meet and mingle. This is a no pressure atmosphere for people of all lifestyles to enjoy time after time. The minimum age for entry is 21.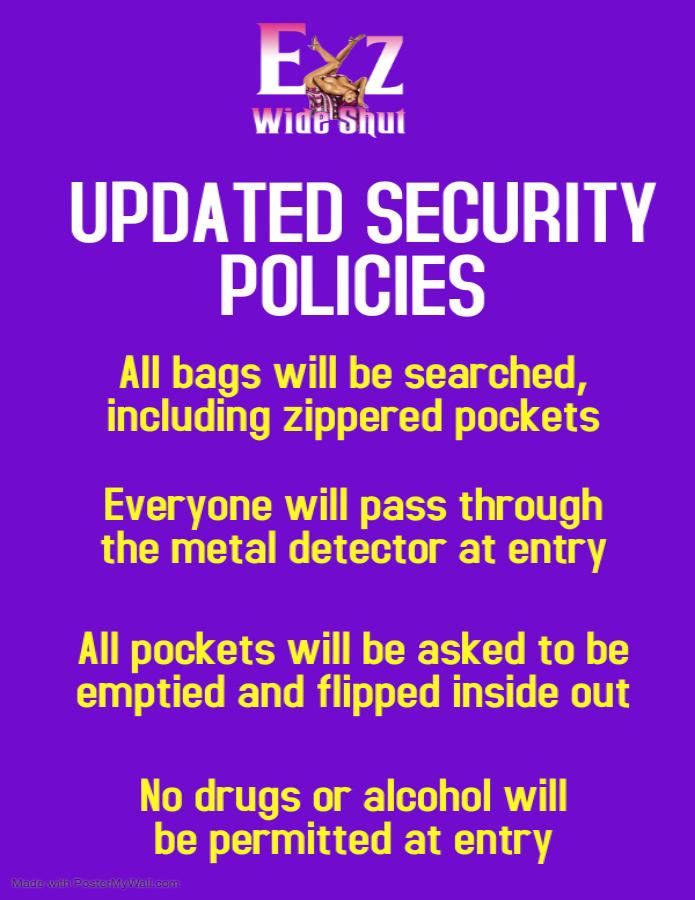 About Eyz Wide Shut
Eyz Wide Shut is Tampa's Premier Lifestyle Nightclub, a Couple's Playground with Unique Adult Lodging. Over 12,000 square feet of fun and games, two for the price of one; Eyz Wide Shut I, the lodging and Eyz Wide Shut II, the club. Enjoy a full liquor bar with tons of drink specials! The impeccable decor, lighting and variety of music will generate an intriguing ambiance.
Explore the lifestyle and culture of Eyz Wide Shut and arouse your attitude, tempt your taste and magnify your mode of living as an individual or group. Come enjoy the superior, upscale appeal for an unforgettable experience to the open-minded and adventurous.
Motivate your curiosity and let go of your inhibitions in any of the ten private themed suites. Experience the seductive Seaside Suite which boasts mirrors on the ceiling or the Dungeon Suite with captivating contraptions. Visit Lover's Lane with the unique sex furnishings. Bring your own movies for viewing on the plasma televisions to illuminate your senses. Guests receive their own private room key entry for each room.
Cleanliness is their #1 priority! The facility is immaculate with maid service providing each guest with clean linens and fresh towels. The luxurious memory foam mattresses are covered in vinyl for cleanliness.
Discretely enjoy your experience with your lover or with other guests, no pressure.
Great for voyeurs, fetishists, and exhibitionists.
EWS is a non-smoking facility offering an outdoor smoker's oasis that includes privacy fencing with a covered patio.
EWS has secured multiple state and local licenses to ensure a safe and respectable environment. Rules of conduct are also in place for all guests.
Make plans this weekend to swing into Eyz Wide Shut!
BARSIDE VIRTUAL TOUR
COUPLES PLAYGROUND VIRTUAL TOUR